LEWIS SERIOUSLY INJURED!!! As witness on Showdown, Aaron "All Day" Lewis was savagely attacked by "Top Dog" Rick Styles before his scheduled match on Showdown against Malcom Shabazz. Styles attacked from behind with brass knuckles and proceeded to beat Lewis out of the ring and to the ringside area, where he broke Lewis' leg. After that, he received a container of liquid from his valet, Ralph, and poured it on Lewis before lighting Lewis on fire! Medics and security were almost there immediately as UPW Vice President of Talent Relations, Thomas Grissom showed up and ended up in a tussle with Styles, culminating in Styles punching Grissom to the floor. Within hours Styles was sitting, with his lawyer, in front of the ownership of UPW and using the excuse of "it wasn't supposed to go exactly like that." Styles quickly cut himself a deal to remain employed with UPW, but be punished in different ways. Far as Lewis, the Doctors in Denver found that his leg was a clean break and not terribly complex. His knee had damage as well, but not as bad as it could have been. Lewis is expected to be out of action 6-10 weeks, putting his availability for Slamfest VI in serious jeopardy.


NEW TELEVISION CHAMP AGAIN!!! For the second consecutive UPW event, the Television Title has changed hands. At Showdown, new TV Champion "Hardcore Icon" Brandon Franklin would end up losing his title in the first defense against Windham Brody. Brody's victory was aided by attacks from the three members of the Dominion stable. As Franklin entered for his defense, "Legionarius" Antonio De Luca, "Adonis" Lance Donovan, and "The American Nightmare" Tyson Bishop all rushed in and attacked him in the entrance aisle. They laid a savage beating on him and then left him for dead in the ring as the bell sounded. Franklin fought bravely and still nearly pulled out the win, but Dominion stayed at ringside and constantly helped Brody to make sure Franklin did not keep his title. Why did this happen? Sources say it was mainly because of the Ultimate Rumble and Franklin managing to be the man who eliminated each of the three men and not allowing them to dominate as expected. The question for the TV Title now is, can Brody keep it past one defense?


RUMBLE WINNER RECEIVED AID!!! In the main event of Showdown, Glenn Chambers gained a big victory over "Conceited Bastard" Chase Williams, but the big man refused to let that be the final word. Desperate to prove he belongs at the top level, he attacked Chambers post match, intending to land the "Moment of Clarity" on a steel chair before Caleb Foley came through the crowd and saved Chambers from the potentially injuring move. Foley and Williams then began trading blows that led them to flip out of the ring and eventually into the ringside crowd! Security finally got out to try breaking it up, which led to UPW World Heavyweight Champion Derek Rage coming out and standing face-to-face with Chambers as the show concluded.


FIRST MEMBER OF 2017 HALL OF FAME ANNOUNCED!!! On Showdown, it was announced that the first member of the five-member inaugural class would be "Playboy" Ronnie D! The legend appeared in the Ultimate Rumble at Survival and rumor has it has signed a legend's contract with UPW for appearances and memorabilia sales. Ronnie was one of the greatest heat seekers of his generation, headlining in major stomping grounds such as IIeW, IIWF, and the infamous EMWC. Congratulations to the legend for this prestigious honor!


TAG PARTNER SEARCH ONGOING!!! Ever since managing to finish third in the Ultimate Rumble match at Survival, "El Patron" Felix Sandoval has been searching and contemplating the perfect partner for his tag title shot. During the telecast of Showdown, Sandoval discussed the possible tag shot with many different wrestlers, including Frank Anthony, "Sadistic Insanity" Damian Payne, and the man who would later go on to become TV Champion, Windham Brody. None of those meetings bore fruit, but now sources are saying Sandoval has picked a partner. The name is not being released or even speculated on as of press time, but Sandoval is already telling anyone who will listen that his rise to World Title status is inevitable because of who he chose to partner with. The shot is scheduled for next Showdown, so all will be known sooner rather than later.


THE REGULATOR ON A ROLL!!! Is there anything as strange and wonderful as the shocking run of Billy "The Regulator" James? At Survival, James stunned the world by defeating Tripp Skylark in the preview show and then actually lasted several minutes in the Ultimate Rumble match! Backing up that performance, James defeated former world champion Michael Wilson in the dark portion of the last Showdown card and will now get his chance at performing in a rematch of sorts against Tripp Skylark, whose lose to James sparked a turnaround that led to the end of his losing streak on Showdown when he defeated Harrison Daniels III in the opening bout.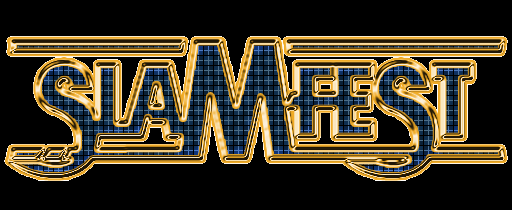 THE ROAD TO SLAMFEST VI IS IN FULL EFFECT!!! The UPW's next PPV is set for The Staples Center in Los Angeles, California in late June! Slamfest VI will feature every title being defended and almost the entire roster somehow involved in the event. This is the "Grandaddy of 'em all" for the UPW, so there are plans for an Access style event and also the UPW Hall of Fame event, which will honor legends all over wrestling, as well as the TTW years. More details as they become available.